Now you're ready to own a website. You will definitely need a server to host your website. Look no further; QServers got you covered. In this article, you will read why QServers stands out as one of the best web hosting company in Nigeria. It is one of the fastest page load and uptime servers in Nigeria. Aside from being one of the best, QServers'plans are very affordable. Let's take a look at their offers.
Empowering Web and Email Hosting for Small-Medium Size Businesses
QServers is a web hosting expert with more than 12 years experience in managing servers for hosting purposes that aims to remain as one of the best web hosting providers in Nigeria and worldwide.

QServers' shared hosting servers are secured by multi-layers of security protections, together with redundancy capabilities that will ensure maximum service uptime for all users. Their servers are constantly monitored by automated software system as well as human, to ensure high availability of all system resources to all users.
Standard Features:
– Free Instant Setup
– Free Website Migration/Transfer
– 99.99% Uptime Guarantee
– Daily & Weekly Remote Backups
Fully Managed VPS Solutions
QServers' VPS plans can be customized for your specific requirements and budgeting needs. To customize and order your VPS plan, you can call their sales team for further enquiries.
A Virtual Private Server (VPS) is a virtual machine divided from a dedicated server.
VPS runs its own copy of an operating system with root access control to manage that operating system instance, this allows administrators to have the flexibility to install any software that the OS supports. VPS resources such as CPU, memory, hard disk space and bandwidth can be clearly defined and allocated to your virtual server.
VPS Features:
– Fully Managed
– Free Monitoring
– 100% Uptime Guarantee
– Free Setup and Migration
Dedicated Server Solutions
Fully Managed Dedicated Servers – Maximum Power, Control and Customization.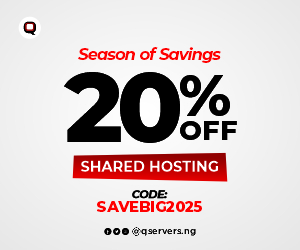 QServers' dedicated server plans are designed to suit the needs of resource hungry hosting requirements. They believe that performance and reliability are the top most criteria required to support their customers' mission critical applications, that is why every dedicated server delivered is well-equipped and have to be at its best state.
Dedicated Features:
– Fully Managed
– Free Monitoring
– 100% Uptime Guarantee
– Free Setup and Migration
They're one of the most affordable Webhost around. You can get a standard website with as low as ₦6000 or lower; depending on the package you choose to work with. Visit QServers now and secure a plan if you're already haven't.